Signing Sister Airports Letter of Intent between Macau International Airport Company Limited & TAG Farnborough Airport
2008 / 07 / 16
The Chairman of the Board of Directors and Executive Committee of Macau International Airport Company Limited (CAM) - Dr. Deng Jun and the delegation went to TAG Farnborough Airport, United Kingdom on 15th July 2008. The Chief Executive Officer - Mr. Brandon O' Reilly gave a very warm welcome to the delegation, and accompanied our Chairman Dr. Deng Jun and the delegation to visit the airport terminal building and aircraft maintenance hangar before the signing ceremony. Afterwards, the two parties signed a cooperation agreement. CEO of Farnborough Airport - Mr. Brandon O'Reilly expressed at the ceremony that he was very happy that Farnborough Airport became a sister airport of the Macau International Airport (MIA) and hoped the two airports could strengthen future co-operations.
Forecast on MIA private jet business development
Private Jet development in Macau International Airport can be traced back to 1995, from zero to a breakthrough development in 2007 with 781 movements, increased by 30% compared to 2006. It is expected to increase by 18% in 2008 to 924 movements.
TAGFarnboroughAirport leads the global private jet business
In 2008, the world-renowned international aviation magazine "Aviation International News" had a "FBO Survey" to show the league table of the world's top 10 private jet business operators. TAG Farnborough Airport of United Kingdom ranked first for the second year in a row.
In 2007, Farnborough Airport recorded 26,507 movements of private jets, increased by 24% compared to 2006. The figure is very close to the airport designed capacity of 28,000 movements per annum.
Farnborough airport has a long aviation history, witnessing the growth and development of British aviation industry. In 2003, TAG Aviation took full control of Farnborough Airport under a 99 year lease, and since then they have put great efforts to develop private jets business.
Farnborough Airport provides a full range of aviation services to home base as well as transit private jets, including passenger services, ground handling services, fuel supply, aircraft maintenance, etc.
Since opening to the public in 1949, the every two years Farnborough International Air Show has become one of the world's foremost aviation event. It attracts a large number of audience especially from the aviation sector, and this also creates a lot of business opportunities.
MIA works together with the Government and Private Jet Operators to create Private Jet Base for Asia
Dr. Deng Jun expressed that Macau International Airport has advantages in developing private jet business because of the substantial development in Macau's three main sectors: tourism, MICE and gaming. In recent years, Macau's rapid economic development draw the world aviation industry's attention to the potential private jet business, in particular, the unique geographical location of Macau creates a favorable environment for its further development. Chief Executive of Macau SAR Government – Mr. Edmund Ho Hau Wah and related government authorities have attached great importance to the development of private jets and have provided full support in all related areas. Support from the government and operators will definitely help Macau International Airport to diversify its source market and to promote Macau civil aviation industry which eventually leads to further contribution towards Macau's economic development.
Dr. Deng Jun also said that, at present, the two Macau-based private jet companies, "Macau Jet" and "Jet Asia" are actively expanding their fleet by introducing new jet models and establishing maintenance base. In addition, there are many world-renowned enterprises and private jet companies come into contact with Macau International Airport to negotiate cooperation opportunities. Movements of private jets at MIA are expected to have a rapid growth and will bring positive impacts to other related sectors. Therefore, the establishing of the Macau Private Jet Base in a timely fashion is crucial. Macau International Airport Company Limited as always, will work closely with the Government, home base private jet companies and other relevant local industries to make good use of this great opportunity to develop the private jet business with more open policies and positive attitude.
Dr. Deng Jun proposes the following suggestions to strengthen the development of private jet business:
1. In the next five years, give priority to the development of private jets business;
2. Cooperate and develop with local and international well-known private jets companies;
3. Strengthen cooperation with the Government in the following fields : land, aviation, customs, quarantine, tourism and immigration policy to form a complete set of services;
4. Cooperate with local tourism, MICE and gaming industries to explore potential market and to discover different market segments.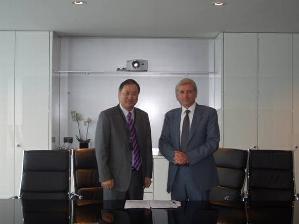 Dr. Deng Jun, Chairman of the Board of Directors of CAM photo with Mr. Brandon O'Reilly, CEO of TAG Aviation Farnborough Airport during the signing ceremony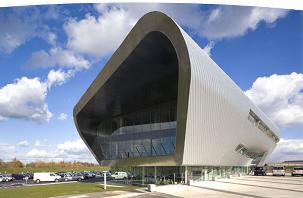 TAG Aviation Farnborough Airport