Airports Council International
Macau International Airport Company Limited (CAM) has joined Airports Council International (ACI) since the commencement of Macau International Airport (MIA) in December 1995. ACI is an international airport organization that represents the collective interests of 717 airport members around the world and is committed to promote excellence in the airport management and operations. Currently, ACI has their members operating over 1,950 airports in 185 countries and territories. ACI's headquarter is set in Montreal, Canada, with five regional divisions in Africa, Asia-Pacific, Europe, Latin America–Caribbean and North America.
CAM always supports and participates in ACI's annual conferences, exhibitions and various activities. Besides arranging staff to participate in Airport Management Professional Accreditation Programme (AMPAP) organized by ACI and ICAO (International Civil Aviation Organization), CAM also actively recommends friendly Mainland airports to join ACI. In May 2008, CAM Executive Director Ms. Liu Suning was also elected as Regional Board Director of the ACI Asia-Pacific and served for two terms until her term finished in 2014. Throughout her terms, Ms. Liu joined other senior airport executives from airports in Asia-Pacific and the Middle East to form the governing body of ACI Asia-Pacific responsible for overseeing the Regional Office's policies, fiscal management and the activities of the Regional Office.
Airport Council International (ACI) Asia Pacific Region held its Board Meeting, Regional Assembly, Conference and Exhibition in Singapore from 22nd to 25th May 2012. CAM sent Executive Director Ms. Liu Suning to attend the aforesaid Meetings, Conference and Exhibition in Singapore, and she took this opportunity to discuss in the Board Meeting with other ACI Asia Pacific airports the operational impact of low cost carriers (LCC) on airports.
CAM and ACI Asia-Pacific co-organized the "2015 ACI Asia-Pacific Small and Emerging Airports Seminar (SEAS)" during 25th to 27th November 2015 in Macau, as one of the activities to mark the 20th anniversary of Macau International Airport (MIA), and aligned with the 10th anniversary of the unification of Asia and Pacific regions of ACI. CAM hoped that the seminar will broaden international perspective, not only facilitating a deeper cooperation between aviation partners throughout the region, but also allowing Macau one step closer towards becoming a World Center of Tourism and Leisure.
Dr. Deng Jun, Chairman of the Executive Committee of CAM, extended warm welcome to the delegates in the opening remarks, and wished the seminar a great success. He briefed the road to build MIA into a medium to small size airport over the past 20 years. Mrs. Patti Chau, Regional Director of ACI Asia-Pacific expressed appreciation to MIA's support at her opening welcome speech. The SEAS event comprised networking workshop, panel discussion, and case studies analysis; over 100 airport representatives from the Asia Pacific regions attended the 3 days event. In which, ACI invited well-known specialists to deliver speech in fields such as challenges and opportunities of managing airport business, competition and collaboration between airports, how airports engage with airlines decision makers, and etc.; exploring route development opportunities for small and emerging airports through case analysis.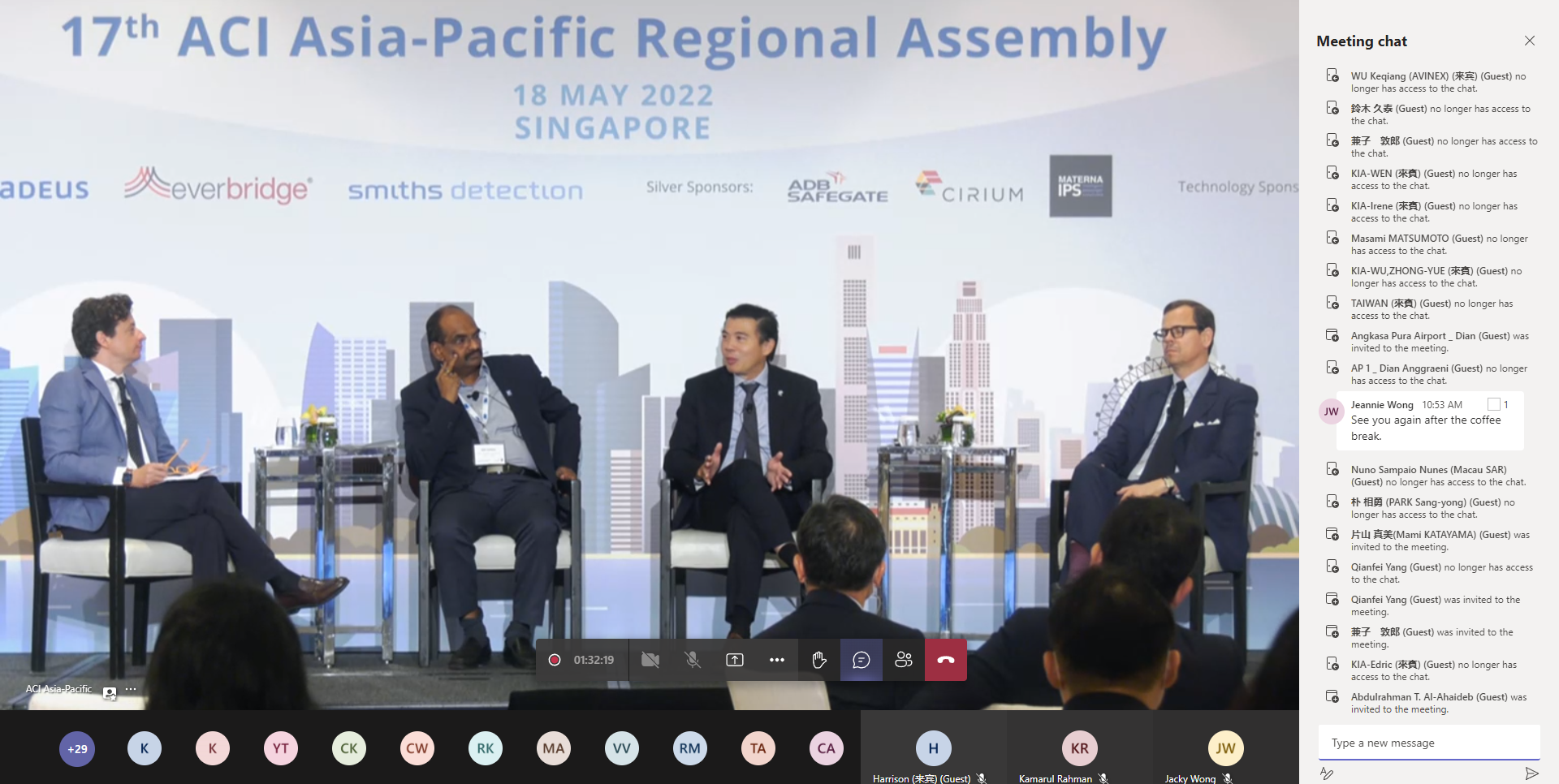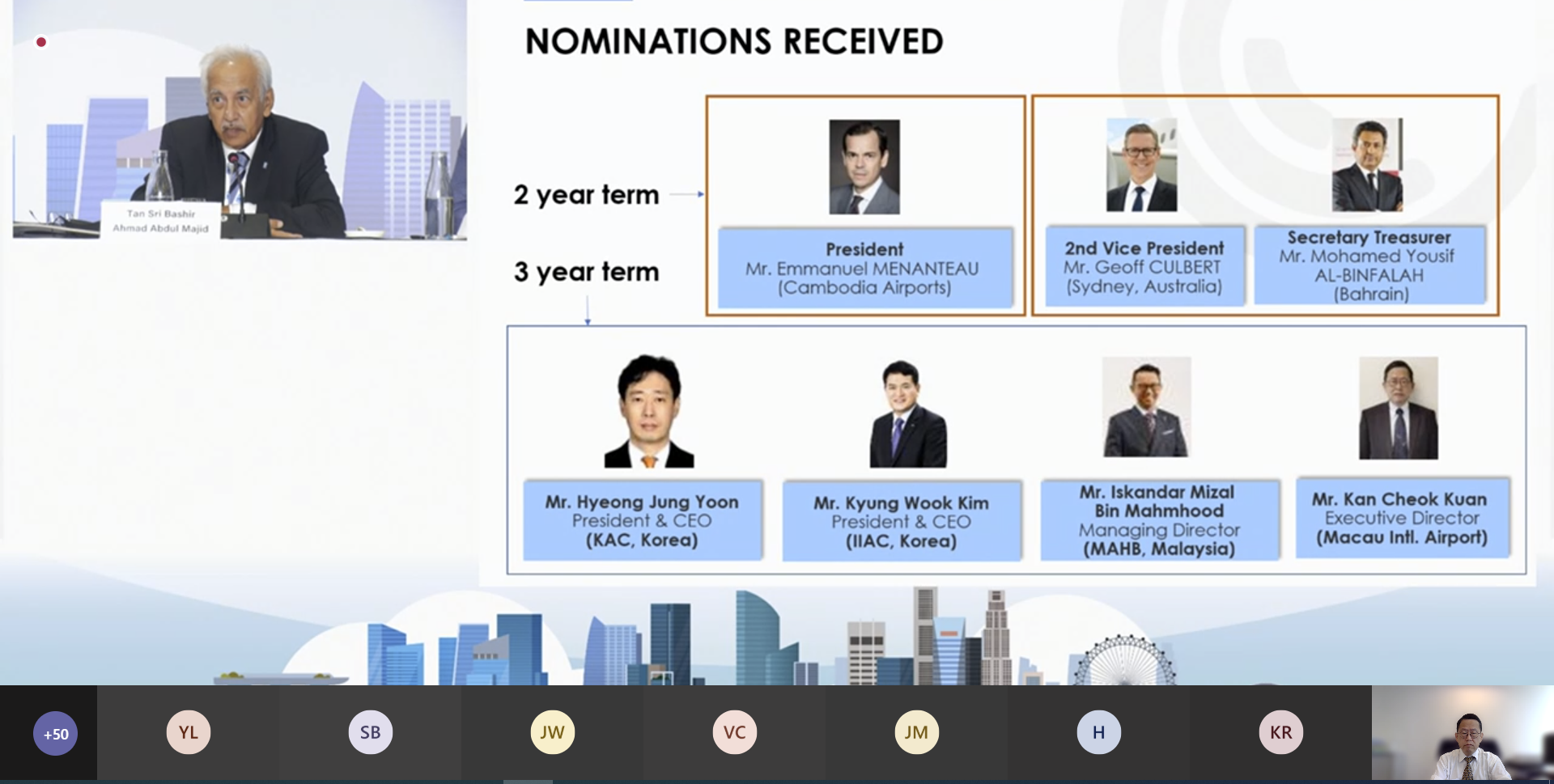 As one of the airport members of ACI, CAM continues to participate in member activities and seminars organized by the Association. At the beginning of year 2022, CAM was again invited to the 17th ACI Asia-Pacific Regional Assembly Meeting held in Singapore on 18th May 2022 and the nomination to the election of ACI Asia-Pacific Regional Board members. Pursuant to the resolution of the Board of Directors and the Executive Committee of CAM, it was unanimously approved to appoint Mr. Kan Cheok Kuan, Executive Director of CAM attending the virtual meeting and be nominated for the election on behalf of the company. During the Assembly, Mr. Kan Cheok Kuan has been officially announced to be elected as ACI Asia-Pacific Regional Director for a term of 3 years. It is hoped that CAM could fulfill its responsibilities and obligations as airport member by having its representative to be actively participate in the regional board, meanwhile, to grasp the opportunities of exchanging with the professionals in the industry through seminars and activities, so as to advancing the collective interests of airports in the Asia-Pacific and the Middle East region and make contribution to the safety, security and sustainability of the global aviation industry.
Even though the Aviation industry in Asia Pacific is in faster development, under the circumstance of unstable economic growth and pandemic development of the world, airports have to face the stress of increasing operation cost, at the same time setting target to improve the service standard, for example: improving of infrastructure, enhancing operation safety, energy conservation and environmental protection. The rapid development of budget airlines, change of tourist structure on new technology usage and their request of personalization, have brought certain impact on airports running in the traditional way. Therefore, airports need to change continuously, be innovative, to match the development direction of airlines and operating partners, improve service logistics and efficiency, as to enhance passenger's experience and fit the need of the industry.