The Forum for Five Pearl River Delta Airports
The Forum for Five Pearl River Delta Airports (A5) began in July 2001. This Forum was firstly led by Hong Kong International Airport aiming to create the service brand of Pearl River Delta Region together, improve the overall competitiveness and enhance regional economic development. The cooperation objectives are collaborative cooperation, innovative exploitation, mutual support and development. Members at that time were Hong Kong International Airport, Guangzhou Baiyun International Airport, Macau International Airport, Shenzhen Baoan International Airport and Zhuhai Airport. Representatives in the Forum agreed to hold the Forum regularly, but the regular meeting was not called since after the member airports took turns to organize the Forum from 2001 to 2003.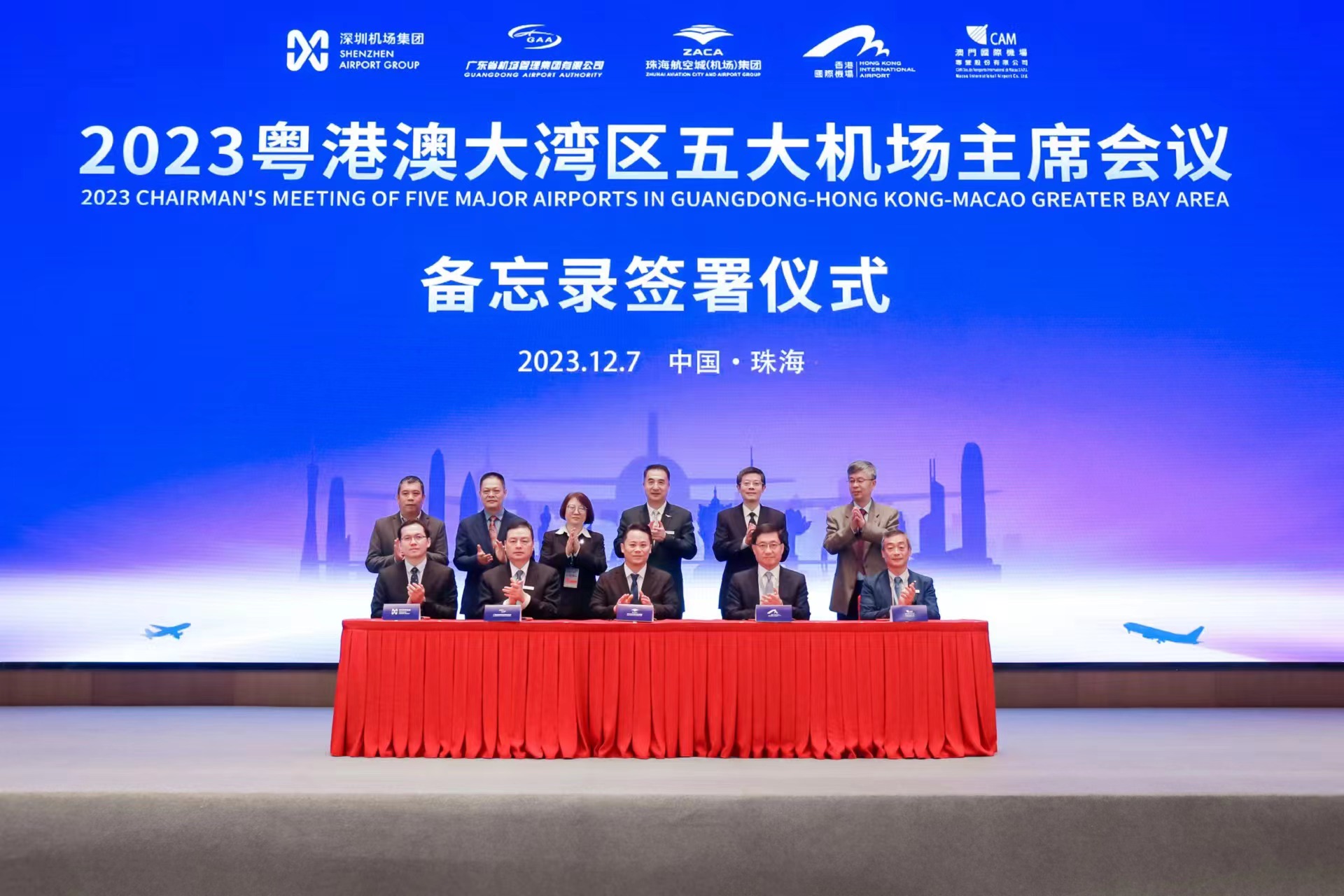 The Forum for Five Pearl River Delta Airports (A5) was held again in Hong Kong on 2rd June 2007. At that time, Vice Minister of CAAC Mr. Gao Hongfeng, Director General of Department of Transportation of CAAC Wang Ronghua, Director of CAAC's Office of Taiwan, Hong Kong and Macao Affairs Mr. Pu Zhaozhou, Director General of CAAC Central & Southern Regional Administration Mr. Huang Suifa and representatives from A5 attended the meeting. Under the support of CAAC, A5 agreed to restart and strengthen the communication and cooperation of A5, and to establish a closer cooperation mechanism based on the original platform.
The 1st A5 Chairman Meeting was held at Guangzhou on 7th Mar 2009, taking the opportunity of attending the Meeting – Greater PRD Region Airports to Implement the Outline of the Plan for Greater PRD Reform and Development, aim to implement "Action Agenda for Greater PRD Region Airports to Implement the Framework for PRD Region's Development and Reform Planning". At the meeting A5 signed the Action Agenda and reached consensus in six aspects including A5's development and positioning, the expansion of Pearl River Delta airspace, etc.
The 6 consensus reached in the meeting:
1. Fully implement China's civil aviation airports layout and development strategy with respect to the positioning of Greater PRD airports: maintain Hong Kong International Airport's status as an international transport center and global pivotal airport; transform Guangzhou Baiyun International Airport into a gateway compound hub, strengthen its status of a center for "radiation" as well as its global competitiveness; enhance services and accelerate software and hardware development for developing ShenzhenAirport into as a "large backbone airport"; consolidate Macau International Airport as a model of small & medium-sized multi-functional international airport; further develop Zhuhai Airport, so as to create a base for the Southern China aviation industry and serve the thriving Greater PRD economy.
2. Join hands to strive for the opening of PRD airspace, making the region a trial area for low altitude flight in China.
3. Facilitate cooperation and exchange in training, airport facilities construction and business services, so as to create a positive competition and cooperation environment.
4. Act as each other's backup landing and emergency assistance airport and share experience and achievements in safety management.
5. Enlist the government's support for developing an airport-oriented integrated transport interchange hub.
6. Strengthen aviation city construction for airport economy development to provide better services for the PRD economy.